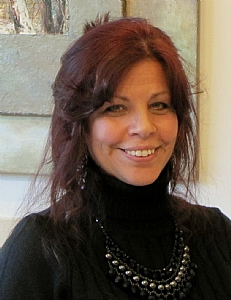 To provide experiences connecting people to beauty and a sense of being in meaningful relationship to our world inspires my art and life goals. Our natural world--with its variety of transitions of light, forms, colors and textures--provides renewing inspiration, and continues to influence my compositions and themes.
I grew up surrounded by the beauty of the American southwest. The wonder and variety of my early environment stirred my imagination and gave birth to a heightened sensitivity to nuances of light, color, and natural form. Nature was my first inspiration and remains a preeminent theme in my art. Uniting with the impact of nature on the themes and subject matter of my work is the influence of the cultural history of the people I have come in contact with and researched.

During my early youth, artist, Grace Thaxton mentored me in her private studio. Thaxton provided direction for my talent and trained me in the tradition of representational oil painting.

Later, under the direction of Jerry Durrant, I received additional fine arts training throughout the period of my high school studies in drawing, oil painting and formal composition. Durrant advanced my knowledge and skill while also introducing me to color theory.
During my mid twenties, I had the opportunity to live in England for a four year period. As I traveled throughout Europe, my development as a visual artist was refined by an extended period of study of the masterpieces of traditional and modern art. My approach to color and light is greatly influenced by the art that I experienced while in Europe. The French Barbizon School of landscape painters has been an additional influence on my painting, as is the Hudson River School of American landscape artists.

While continuing to create and sell new works, I began my post-secondary training in painting, composition, drawing and printmaking. During my first year of undergraduate studies, Professor David Leach introduced me to the tactile and expressive nature of fine art printmaking. Printmaking soon became an important componant of my creative work. In 2000 I was awarded a Bachelor of Fine Arts degree from Wright State University; and a Master of Humanities in 2003. Thereafter, I continued my graduate level of education in fine art at Marywood University.

As a printmaking major at Marywood, I advanced in technical proficiency with the guidance of Professor Peter Hoffer. In the creation of the body of work connected to my M.F.A. program of studies, I began to combine aspects of painting, printmaking, sculpture and book arts. As I continued to explore this method of composing my mixed-media paintings, my "Dimensional Landscapes" series emerged as a significant body of work. I was awarded a Master of Fine Arts in printmaking in 2006.

The landscapes, people and themes of my art are directly connected to my passion for sharing beauty and meaning through art, as well as from my extensive travels throughout Europe and the United States. I work directly from the material, events and discoveries of my life and lived experience. My art, as my life, remains connected to the beauty in nature and the cultural history and personal stories of people around the world.
On Facebook:
http://www.facebook.com/pages/Linda-L-Anderson-Fine-Art-Studio/127342860636194
Artist's blog:
http://www.lindalandersonfineart.blogspot.com